Harlow - United Kingdom
Bhavik Makwana from MAK Gas Ltd has been installing ACV product for many years. He's passionate about his job and his philosophy of carrying out quality work with premium equipment. We spoke to Bhavik to find out how he got into the industry and run through some recent projects he's completed with ACV Smart tanks and Ideal Heating Evomax wall hung boilers.
Bhavik Makwana, Director of MAK Gas Ltd commented, "I started out in the industry at age 14 as an apprentice for Village Heating, worked my way up to project manager and looking after new apprentices. I setup my own business, MAK Gas Ltd, four years ago."
MAK Gas Ltd carry out a wide range of projects including high-end domestic (often installations for celebrities) and commercial installations. Bhavik has created his own walkthrough video for two recent projects that feature ACV Smart tanks and boilers from their sister brand Ideal Heating, both experts in heating.
Bhavik went on to say, "I choose the ACV tanks as they are high quality cylinders with fast recovery. The tank-in-tank design is more effective than traditional coil cylinders and with the connections being on top it provided more flexibility in the installation.
I have been installing these for many years, the long warranties plus the support from their local Business Development Manager is amazing.
Working with Ideal Heating is very similar. I am confident in choosing Evomax boilers as they are reliable and straightforward to install. The plate heat exchangers help to protect them from older, dirty systems. I also know that their support is always on hand."
A walkthrough of Longwood Primary Academy
The installation at Longwood Primary Academy, Harlow, features two Ideal Heating Evomax wall hung boilers with a combined output of 300kW, plus header kits, plate heat exchanger, pump sets, and cascade flue kit all from Ideal Heating. The boilers provide the heating for three different zones at the school as well as heat to the ACV Smart tank for domestic hot water. The boilers are protected with a plate heat exchanger to separate the primary and secondary circuits and stop sludge from the old school heating system from entering the boilers.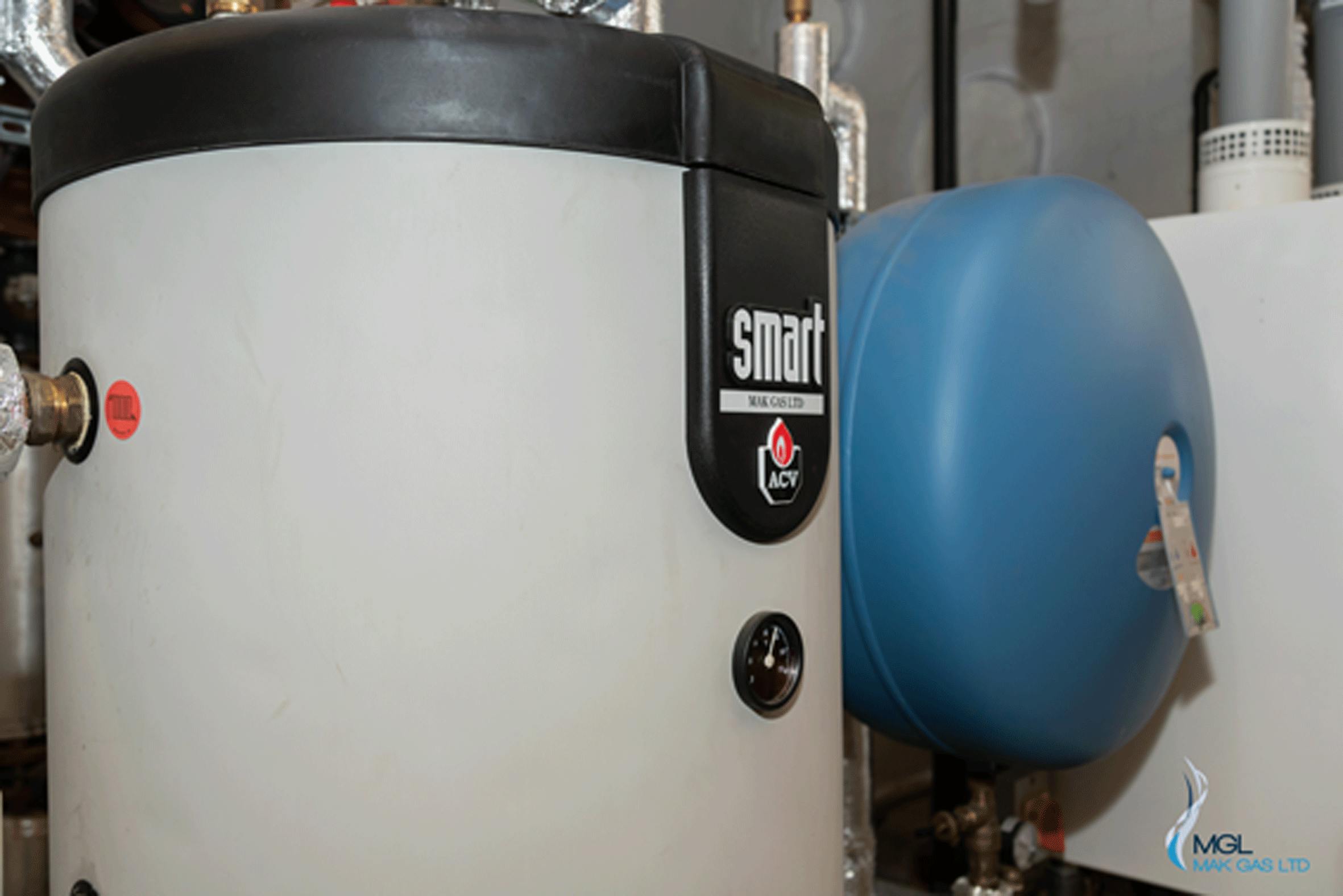 The Smart 320 unvented cylinder provides quick recovery domestic hot water to meet the needs of the schools' bathrooms. The tanks have continuous flows at 40°C of 2093 l/h and very low standing losses of as little as 1.824 kWh/day.
The whole system is managed via a trend controller that enables remote control and monitoring.
To see a walkthrough of the completed installation visit Mak Gas Ltd's YouTube channel.